Vertical Blinds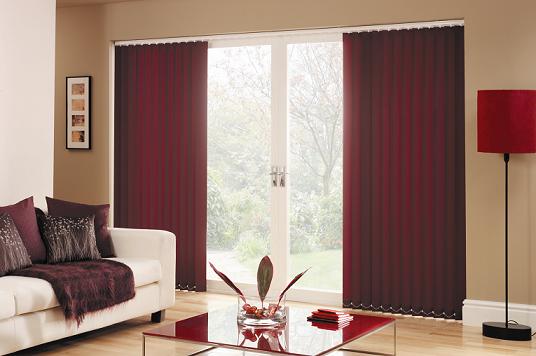 Vertical Louvre
Vertical louvre blinds consist of two basic elements, a rigid headrail along which travel louvre carriers incorporating rotatable hooks and a set of louvres each of which hangs from one of the hooks. The carriers are connected to each other in such a way that they can be bunched together at one or both ends of the headrail or drawn out along the full width of the headrail. When drawn out, the distance between adjacent hooks is less than the width of the louvres. Therefore when the hooks rotate the blind to the closed position each louvre overlaps the louvre or louvres next to itself.

Vertical blind headrails are made in extruded aluminium that is either anodised or painted. They normally have a plain or ribbed face however some are available with a recessed front that accepts a piece of louvre fabric. Alternatively a clip on fascia may also be an option. This gives the whole blind a co-ordinated appearance. Components within the headrail are of injection moulded plastic with the exception of the links that control the spacing of the carrier trucks. These can be made of stainless steel or plastic. Operation can be dual control with separate controls for tilt and traverse or mono controlled through a gearbox. Electrical operation is available. For bay windows, tracks can be curved or joined to one operating point. Louvre blinds fitted with the usual control chains and cords can feature additional child safety devices.

Louvres are normally weighted at the bottom and connected to each other by chains that are fitted near the bottom of the louvres. Louvres can include an enclosed bottom weight that does not feature stabilising chains. A third option features a bottom rail with controls operating both headrail and bottom rail. Blinds made in this way can be fitted at an angle and are suitable for skylights. Louvres can be made in a variety of materials. Woven, knitted or non-woven fabrics are used as the base to which specialist coatings are applied to endow the fabric with additional performance features. Such features include finishes such as solar protective coatings for improved solar and optical performance and flame retardant coatings. Totally opaque fabrics are available in a variety of substrates for blackout purposes. They are also available in washable fabrics. Although such fabrics can be completely opaque it should be noted that vertical blinds only offer a dim out option.

Aluminium or rigid, extruded PVC louvres are also available. Louvres are generally supplied in 127mm (5"), 89mm (3½) wide although other widths, such as 100mm, 63mm and 50mm are available.

Types and operation

Bunching
Left hand or right hand bunch - all louvres bunch on left-hand side or right-hand side when the blind is fully open.
Split bunch
Equal numbers of louvers bunch to each side when the blind is fully open.
Centre bunch
All louvres bunch in the centre when the blind is fully open.
Curved blind
Blind with the headrail continuously curved to a specific shape to fit a curved window or similar installation. Blinds operated by one set of controls.
Dual controls
Individual controls to operate the traversing and rotation of the louvres.
Electrical operation
The use of one or two electric motors to operate the traversing and/or rotation of the louvres usually by remote control.
Free hanging blind
Blinds with louvres that are not fixed at the bottom.
Jointed headrail blind
Blind with one or more flexible joints connecting straight sections of headrail and made to fit a curved window or similar installation. Blind operated by one set of controls.
Mono control
Use of one control to operate both the traversing and rotation of the louvres.
Pelmet
A piece of reinforced louvre fabric supported on a bar fixed to the headrail to match the louvre fabric or contrast the colour.
Pitched blind
Free hanging blind with the top and/or bottom not horizontal.
Stepped blind
Free hanging blind with a section of the louvres cut to a different length to avoid an obstruction such as a radiator.
Top and bottom track blind
A blind with the louvres held rigidly between two tracks. Suitable for use on a skylight or any other installation where the louvres are not vertical.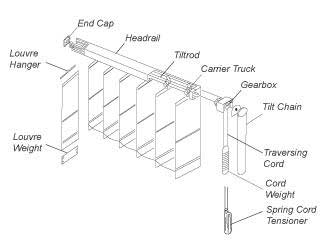 Components

Headrail
Anodised or painted aluminium extrusion.
Tilt rod
Aluminium or alloy extrusion used to operate the louvre rotation gearing.
Fixing brackets
Galvanised metal, painted mild steel or plastic.
End cap
Moulded plastic. Fixed at each end of headrail. Used to support the tilt rod and blind controls.
Louvre carrier truck
Moulded plastic. Incorporates the gearing to rotate the louvre hook.
Self-aligning carrier truck
Truck incorporating a hook mechanism featuring a clutch devise to protect the mechanism.
Fixed gear truck
Truck with a direct drive between the louvre hook and tilting device.
Spacer link
Stainless steel or plastic. Controls the spacing between the louvre hooks.
Tilt/rotation chain
Metal ball and chain or cord with plastic balls. Turns the tilt rod to control the louvre rotation.
Tilt gearbox
A geared drive to adjust the louvre angle.
Traversing cord
Stretch resistant. Used to traverse the carrier trucks.
Cord weight
Moulded plastic or metal. Fixes to traversing cord to prevent sagging.
Spring cord tensioner
Mild steel. Alternative to cord weight.
Louvre insert/hanger
Plastic. Fixed into top of louvre to connect louvre to the louvre hooks.
Louvre weight/ballast weight
Metal or moulded plastic. Fixed to bottom of louvres to hold fabric under tension.
Stabilising chain
Metal or cord with plastic balls. Fitted to bottom of louvres to prevent excessive movement in draughty conditions.