Pleated Blinds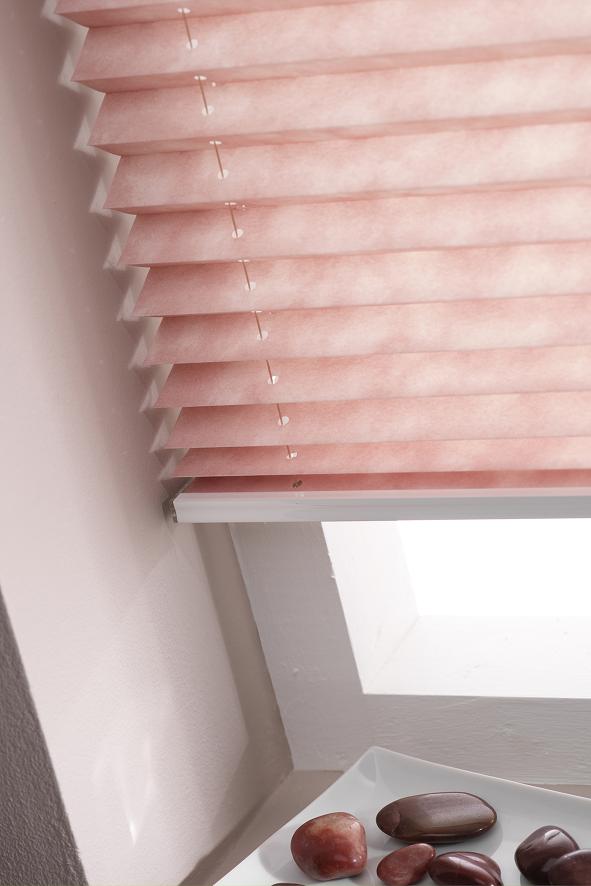 A pleated blind consists of a length of permanently pleated fabric attached to various head and bottom rails and operating in a concertina fashion to raise or lower the blind. Blinds may be free hanging thereby operated via a cord and cord lock or manufactured to a constantly tensioned method to allow the fabric to be adjusted along its length of travel without the need for hanging cords. Typically pleated fabrics are light in weight and this, in conjunction with the ability for the blind to be manufactured to satisfy awkward shaped openings results in the product being especially suited, although not limited to, for skylight and conservatory applications. Pleated Blinds that are fitted with control cords can feature appropriate child safety devises if requested. Pleated blinds are available in a variety of pleat depths the most popular being 20mm and 25mm. Many pleated fabrics feature additional coatings to improve their solar and optical performance the most popular of which are specialist solar performance coatings and metallised finishes. Certain systems offer a pleat securing method that ensures that pleat retention is always maintained. Alternatively cellular (honeycomb) fabric may be fitted. This type of material has joined pleats to form a cell that provides enhanced solar protection as well as insulative properties and provides additional decor options.

Fabrics
Base cloth offerings allow finishes that produce translucent fabrics, semi opaque and opaque. Fabrics can be plain or patterned (including Jacquard or multi-coloured). Solar protective coatings and metallised finishes are typical of pleated fabrics offered - some meet flame retardant standards.


Types and Operation


Free hanging
Cord operation passing through a cord lock for operational control. Usually has a weighted bottom rail to make the blind hang better.
Tensioned
To be fitted in a rooflight or sloping window. Can be fitted with frame or used with side channels and/or perlon wires through the fabric. They may be cord, wand, hand draw or electric motor operated.
Shaped
Most unusual shapes are easily covered using pleated blinds e.g. rectangular, circular, and semi-circular.
Dual function
Three rails may be used with a different fabric in each section e.g. with the mid-rail to the headrail, a 'daytime' fabric is in the window and from the mid-rail to the bottom rail, a 'night time' fabric is viewed.