Patio Awnings
Awning Guide – Domestic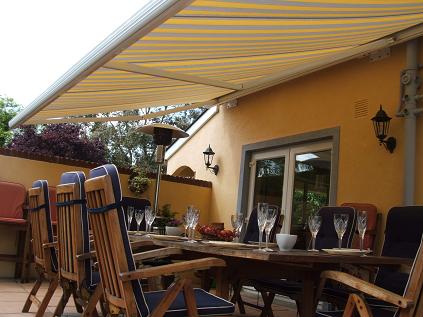 External sunblinds and awnings are becoming increasingly popular in the UK; traditional canvas blinds have been seen outside shop fronts since the 19th Century. In the last 50 years, blinds of new styles and types have appeared, made of aluminium components, with rot-proof and fade-proof acrylic fabrics. In continental Europe, modern awnings have always been popular, both domestically and commercially. Until the last 10-15 years, there were relatively few domestic awnings sold in the UK.
Why buy a Patio Awning?
An awning offers the ultimate in versatility, 45 percent of the heat that builds up in your house comes in through the windows. Both exterior and interior shades can control this excess heat, external blinds or awnings are more far more effective, since they block sunlight before it enters the house, ideal for covering patios or decked areas.
What does a Patio Awning do?
·
Provides shade and shelter from the heat of the sun.
·
Prevention of solar heat gain inside the house.
·
Protecting furniture and furnishings from fading.
·
Making your garden an extension of your house.
Operation
The most popular system until the advent of in-expensive awning motors was a manual operator using a simple removable hand brace. The motorisation of your awning is operated by a hand held remote control, the option of a sun and wind sensor that automatically operates your awning as you program it can be fitted. The awning senses the sun and out it goes to provide the protection you desire. The sun goes down and your awning automatically retracts safely waiting for the next time the sun comes out. The wind sensor will protect your awning from wind damage.
Quality and safety
Patio awnings are primarily designed to provide shade, and not shelter in adverse conditions such as rain or wind; there will be times when an awning is left out in gusty conditions. A strong gust of wind can subject an awning to considerable forces which could damage it, and even the building on which it is fixed. Having a wind sensor fitted to your awning can eliminate this problem.
Recently there has been an influx of "sub standard" Chinese awnings being sold in the UK cheaply by various suppliers. These are not designed or manufactured to withstand our weather in the UK. Whilst looking similar to some of the long-established European makes of awning, apart from a lightweight cloth, the whole frame and many of the components are much lighter. Not only does this mean they will be weaker, less durable and not last as long, but there is also a safety issue. A strong gust of wind can bend or even break poorly manufactured components. European Construction Products Directive requires that external sunblinds and awnings meet minimum standards regarding resistance to wind.
What precisely does the new European standard regulate?
It defines the currently applicable requirements for awning systems and their safety during installation, operation and maintenance. It also describes the various rating classes and performance characteristics for factors such as wind resistance, resistance to water accumulation, operating force, mechanical life or durability of fabrics and appearance. An integral part of the standard is also a conformity assessment specification. Before a product can be introduced into the market, the manufacturer must ensure that the prescribed requirements of the particular EU directives are met. A declaration of conformity confirms this. Only then can a product carry the CE mark, which guarantees the end user a product that complies with the safety standards.
Fitting
It is vital that an awning is correctly fitted; can they be fitted by the DIY enthusiast? Theoretically they can, but they are best left to the expert. An awning can not only be heavy, but also have powerful springs in the folding arms and usually a minimum of two people are needed to carry out the work. Then there is the question of the building onto which it is going to be fitted: brick, breezeblock, cavity wall, steel structure etc. What type of fastening should be used? Fastening technology is highly developed and there are many different types of fastener suitable for different applications, including screws, expanding bolts and chemical fixings. Knowing what is right for the job only comes through training and experience. For example, expanding bolts can cause brickwork to crack - making it weaker. Fixing an awning to a single-storey building requires the use of spreader plates or "bungalow brackets". With the introduction of "Home Information Packs", it is important that any electrical product fitted to your house has been installed competently.
Care of your awning
Awnings are specifically intended as providers of shade and are not to be left out in windy conditions. They can withstand a surprising amount of wind and rain, but they are not designed for this sort of application. If the awning will be left unattended then it is recommended that it is retracted. This can be done manually or a wind sensor will ensure the awning retracts automatically in adverse weather. You may leave the awning out in light rain but allow it to dry as soon as possible before retracting it.
Maintenance
Quality awnings are virtually maintenance free, in inland areas simply wash the frame and fabric once per year with mild soap and water, in salt-water areas we suggest rinsing the frame and cover monthly. Clean lightly stained fabric with a specialised cleaning agent available from your supplier; severely soiled or stained fabric must be professionally cleaned.
Key points
·
Think about the quality of the awning you are purchasing.
·
Make sure it is properly fitted.
·
A good quality awning will have a minimum product life of 10 years and enhance the value of your property.